MINI HUMIDIFIER AROMA OIL DIFFUSER. 300ML WATER TANK. WITH COLORFUL NIGHT LIGHT
While using humidifier at home it can help you to prevent air getting to dry and has a healing function. Sleeping – Using humidifier in bedroom can help you improve your sleep. By using a certain essential oil you can get to your bed and achieve the highest level of relax. Your sleep can be much deeper than before using humidifier. Imagine smell of pine just before you fall a sleep.
FEATURES:
EFFECTIVELY PURIFIES THE AIR: With the newest ultrasonic nano mist technology, the device efficiently humidifies and ionizes the air. It has been proven to relieve symptoms associated with colds, flu and viruses. Also recommended for treating dryness of the skin, nose, lips and throat.
USB POWERED: For added convenience can be charged using a USB cable. When fully charged the battery provides up to 8 hours of operating time.
SAFE & AUTO SHUT-OFF: There is built-in water level sensor inside that will automatically turn off the power when the water is lower than the safe water level.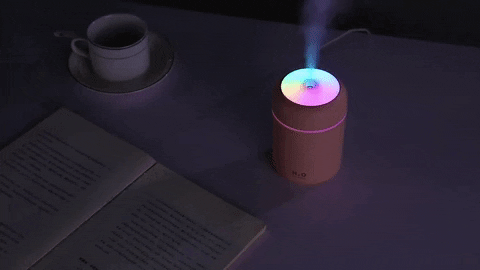 SPECIFICATION:
Rated input: DC 5.0V / 1.0A
Working current: 250-350mA
Rated power: 1W
Water tank capacity: 300ml
Spray volume: 25-35 ml / h
Scheduled shutdown time: 4 hours/6hours
Size: 78x119mm/3.07×4.68inch
Material: ABS/PP/Electronic components